10 Sustainable Luxury Designers For Eco-Friendly Fashion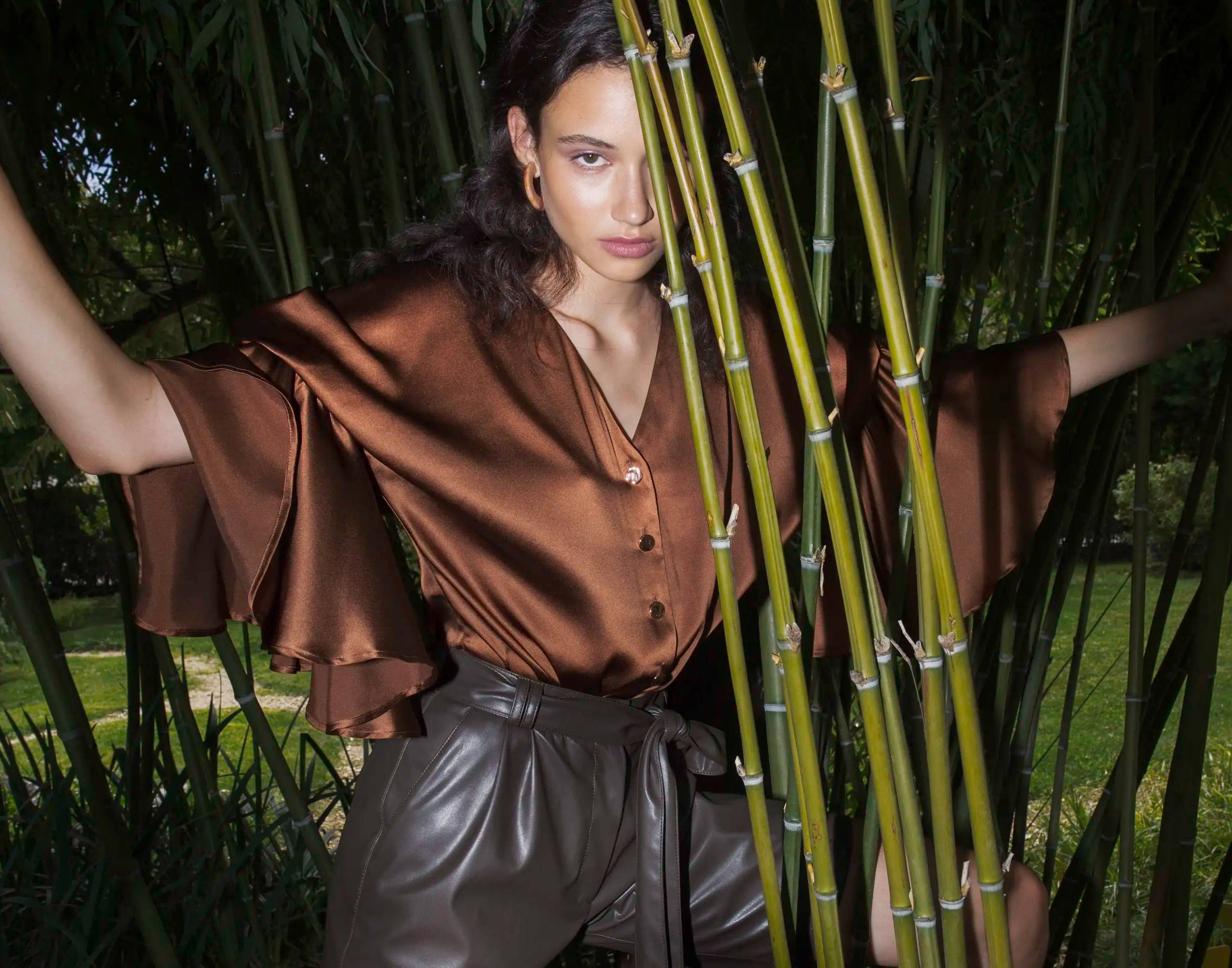 At Beunica we believe high fashion should mean higher standards. Shopping sustainably doesn't mean you have to compromise on quality and style. A growing number of environmentally-conscious luxury brands offer high-quality and beautiful pieces that are also sustainably and ethically made. If you are looking to splurge on your next staple piece, we have rounded up some of the most sustainable luxury fashion brands that produce high-quality, eco-friendly collections - and which don't sacrifice on style - so that you can enjoy shopping with a clear conscience.
From high-end brands such as Stella McCartney, Mara Hoffman and Gabriela Hearst, to more contemporary brands like Nanushka and Bogdar, here are 10 of our favourite sustainable brands to know about now.
Another Tomorrow is a modern sustainable luxury clothing brand pushing the boundaries of what responsibly grown and ethically manufactured materials can achieve. The refined ready-to-wear collection reflects their penchant for easy tailoring and timeless staples and is made from trackable organic linen and cotton, ethical wool, GRS recycled cashmere, and FSC-certified viscose to give wearers the opportunity to learn how the garment is made.
Stella McCartney's eponymous label designs ethical and high-end clothing, shoes, and accessories with a responsible, honest, and modern ethos. Stella McCartney continuously develops and engages with new ways to reduce environmental impacts, using innovative techniques throughout the supply chain and designs. Driving a modern and responsible sensibility, no leather or fur is used. The brand has implemented the use of regenerated cashmere instead of virgin cashmere, as well as sustainable viscose, econyl fabric (made from recycled plastic bottles) and innovative sustainable faux furs.  
Mara Hoffman founded her label in 2000 after graduating from Parsons School of Design in New York City. Fifteen years later, the brand committed itself to implementing more sustainable and responsible practices while remaining committed to presenting colorful collections inspired by and in celebration of women. Mara Hoffman uses a high proportion of eco-friendly materials including recycled material and compostable packaging. The brand reduces its water use by using digital printing technology and limits the amount of chemicals used in production.
VOZ is an artisanal luxury fashion brand with a mission to empower indigenous artisans and their craft through collaborative fashion design. The brand pays living wages for every textile and sewn garment and uses sustainable fibres and processes. VOZ specializes in revitalizing ancient weaving techniques that are indigenous to the Southern Chilean region. The Mapuche Master Weavers infuse each of the collaborative designs with symbols from their family traditions.
Bogdar is an independent fashion label, uniting contemporary style and sustainable execution. Bogdar uses 100% sustainable fabrics, including GOTS (Global Organic Textile Standard) cotton and biodegradable materials. Bogdar is launching a traceability programme for their AW21 collection, with the aim to prove that every stage from crop growth to final production has been certified as sustainable.
Fassbender is a Hamburg-based label that brings together the elegance of sophisticated tailoring, comfort and functionality. Every season, Fassbender explores the newest sustainable material innovations, all sourced from certified workshops with the highest ethical standards for everyone involved in the creation process. Natural materials, like alpaca and lambswool, are produced by animal-friendly farms and the peace silk is made without sacrificing living silk worms. Respect to nature is the core of the Fassbender woman who lives beauty inside out.
Mastani takes customers on a journey into the world of the hands that made it and the culture that shaped it. By using handmade traditional techniques which are inherited by the artisans from their ancestors, Mastani aim's to preserve and revitalise the founders Indian cultural heritage through the brand. Mastani artisans are masters in embellishment, hand-looming and contemporary silhouettes. Naturally dyed, hand-loomed peace silk has become a signature fabric within the limited-edition collections. With a focus on ethical and transparent production all garment construction is performed in house at our Mastani Atelier, located in Bengaluru, India.
Eleven Six is an ethically produced knitwear brand combining contemporary design with traditional Andean knitting techniques. The majority of the knitwear collections are produced with highly skilled artisan men and women in Peru. Eleven Six exclusively uses Alpaca yarn that is natural, sustainable, eco friendly and ethical.
Gabriela Hearst is a luxury women's and men's ready-to-wear and accessories collection, built on the principles of timelessness, uncompromising quality and sustainability. Being socially-minded extends past production and fair wages for Hearst, as she has been a loud-spoken advocate for climate change (her knits and suiting are often made with deadstock fabrics, eliminating the carbon footprint of new materials) and women's rights.
Nanushka is a Budapest-based womenswear, menswear and accessories brand founded in 2006 by Sandra Sandor. Focusing on craftsmanship, detail and fabric, Nanushka builds an elegant, modern wardrobe creatively through Sandor's dedication to responsible production. The brand commits to a circular economy with eco-conscious practices that use recycled materials, while minimizing carbon footprint by keeping its production sites close to its headquarters in Budapest.