10 Fashion Sustainability Trends of 2022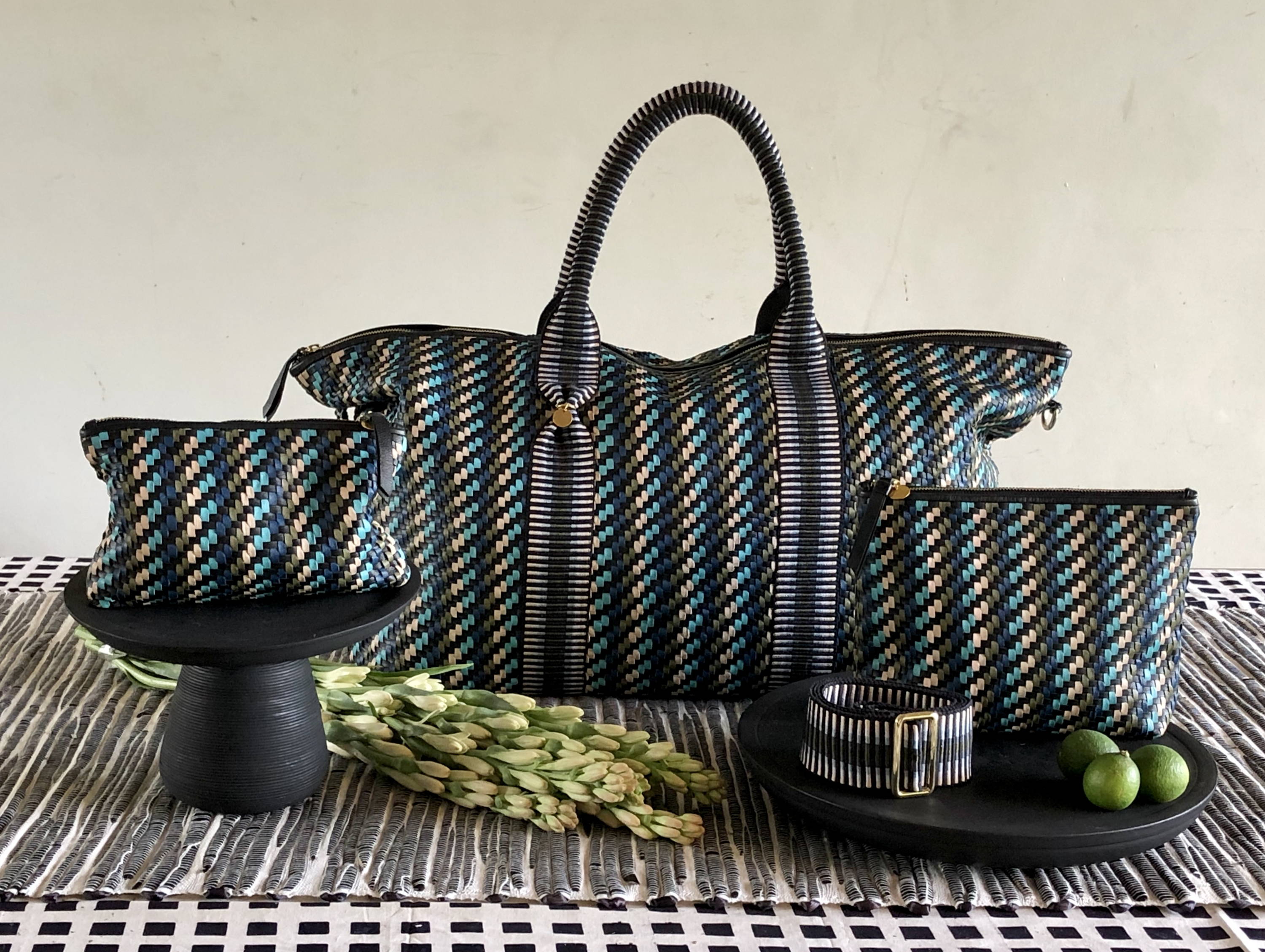 From niche topic to mainstream movement, sustainable fashion has transformed over the past few years. And, as eco-friendly clothing becomes more of a priority for those who want to mix style with sustainability, the movement continues to evolve, with countless exciting innovations to keep things interesting.
Here are 10 sustainability trends that we're keeping our eye on in 2022.
Organic cotton and recycled polyester once ruled the sustainable fashion scene. But thanks to some amazing material innovations, they've got company. This year, you can expect to see silk made from rose petals, and scarves and corsets made from waste orange fibres. Mushroom leather, aka mycelium, is growing as a firm favourite for vegan bags and shoes, and algae is proving to be seriously versatile, used for everything from sequins to raincoats. Himalayan nettle denim is in the mix too; 100% sting-free, it's strong, breathable and, because it grows wild, it doesn't require irrigation and chemicals to grow.
Resale platforms have transformed the way we shop, and the market is expected to double over the next five years, overtaking fast fashion and reaching a value of $77 billion. That's why a whole host of brands including Levi's, Mara Hoffman, Rachel Comey, and Selfridges have turned to the resale shop as their next move, rescuing pre-loved pieces from languishing unworn in wardrobes (or worse, heading to landfill).
New laws are ensuring ethical clothing made in safe, fair conditions is a reality. The International Accord - previously the Bangladesh Accord - is a huge step forwards, making brands financially and legally responsible for the safety of the factories their clothes are made in. So far 87,000 safety issues have been found and over 90% of them have been eliminated. SB62, a bill that passed in September 2021, means that garment workers in California must be paid a minimum wage, and if the New York Fashion Act passes, brands will have to map supply chains and declare their environmental impacts. Keep your eyes peeled for new greenwashing rules like the Green Claims Code too, which are clamping down on brands who twist the facts on sustainability.
Knowledge is power, and sustainable fashion brands and organisations are doing their best to make sure we have all the information we need to create a better future. The Centre for Sustainable Fashion teamed up with ASOS to create a free circular fashion guide and the Ellen MacArthur Foundation released an information-packed book on the subject too. Fancy going back to school? Slow Factory's 20,000 ft² Institute is due to open in Brooklyn at the end of 2022, teaching all you need to build a regenerative, climate-positive future.
Brands and organisations are teaming up to meet sustainability goals; sharing resources and knowledge, and taking collective action. Fashion Declares is a new community movement with five key commitments including promoting social justice and radical transparency. Supported by brand founders, academics, influencers, and activists, its bottom-up approach is all about networking for the greater good. Meanwhile, the Ecovative cooperative will give brands the chance to collaborate on brand new mycelium materials – making the sustainable fabric more accessible for all.
Dyeing requires vast amounts of energy, heat, and water, and 72 toxic chemicals have been found to pollute water supplies because of textile dyeing, impacting everything from crops to drinking water. So the industry is on the hunt for alternatives. This year, Fashion for Good has launched D(R)YE in partnership with brands such as adidas and Kering. Bringing together new dyeing technologies, brands will be able to reduce emissions by up to 89% and cut water consumption by between 83% and 95%.
Regeneration & Restoration
Doing 'less bad' is no longer enough, now the focus is on restoring nature with regenerative farming techniques. Regenerative wool, for example, is sourced from sheep which are managed in a traditional manner that actually restores the soil and adds nutrients, instead of damaging the land through grazing. Brands including Eileen Fisher and Allbirds are using regenerative wool, while Kering has plans to regenerate one million hectares of land by 2025 with techniques such as eliminating chemicals, protecting native plants, and improving soil health.
With over 100 billion garments produced each year, there is already more than enough fabric to go around, and brands are beginning to see pre-loved and deadstock fabrics not as waste, but as a resource. Take Stella McCartney's dresses made from leftover lace offcuts as a prime example of zero waste design, or get inspired by Collina Strada who has used textiles from Kantamanto market, Ghana – where western clothes are dumped by the tonne – to create a capsule collection. The practice has been around for a few seasons but as blankets, parachutes, and old season offcuts become the fabrics of choice, it looks like it's here to stay.
After years of lightning-fast production, fashion is beginning to revisit the beauty of traditional skills passed down through generations. Crochet, patchwork, weaving, batik, hand sewing, and other such artisanal skills are front and centre for brands like Stelar, Mia Papa, and Bamboleira. Invested in sustaining unique skills from around the world, brands are bringing time-honoured skills worth waiting for into the future.
The next step for digital fashion? The metaverse. Instead of buying clothes for one occasion or even one photograph, we can now satisfy our desire for newness by dressing our digital selves up in the metaverse. JW Anderson, for instance, minted the iconic patchwork cardigan worn by Harry Styles as an NFT, ready for someone to snap up and wear in their favourite virtual world. Caution is needed because NFTs can be very energy-intensive depending on their platform, but creating digital clothes for the metaverse – and for social media content - may have the potential to reduce the demand for single-use outfits.